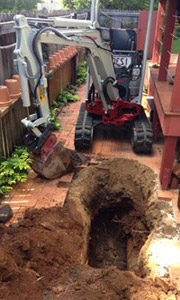 Plumbing
David's machines can sneak past difficult obstacles on your fence line, like hot water systems and air conditioners, to dig storm water, sewer or ag lines for new services, house extensions or to repair damaged lines. They can also get in under houses between the posts to dig drains. What ever the tight situation you are faced with David will most likely be able to get his mini excavation machines in where others just shake their heads!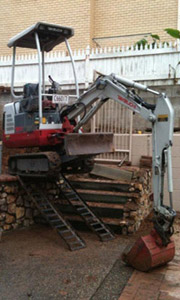 Landscaping
Your imagination is just about the only limit to what Digga Dave's machines can do around your yard. They will handle shaping, terracing, as well as the post holes for retaining walls and fences. Dont worry if you have a narrow access or even just a small suburban yard because Dave's machines can easily get in and take care of all your landscaping needs. Call David today about your backyard dreams and he'll come out and give you a quote.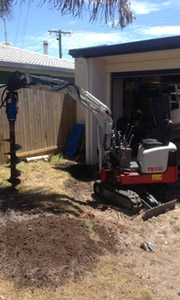 Foundations
If you need an extension put on your house or want to add a new deck then David's machines can easily handle the digging of the footings and the piers. They can also strip the grass away and get the levelling correct, preparing the area ready for your new building additions. Dave can also dig the post holes with his many Auger attachments and is always very willing to get off the machines to give you a hand. He's a local hands on man!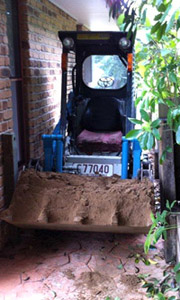 Leveling
if you have water siting in your yard or you need to prepare it for turf, then Digga Dave's mini excavation machines can be very effective. Should you have water sitting beside your house after the rain and only have a little gap this may be no problem, as long as it's at least 700mm wide then the mini machines can get in. With the tilting buckets on both excavators the ground can be shaped to drain the water away from the house or building very easily.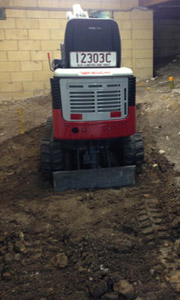 Rock Breaking
Dave's rock hammer fits on both excavators and it can be used to break up rock or concrete under your house, lowering the ground level to gain more height, for under house extensions. It can also be used to break up old paths or driveways in hard to get at places. The excavators can also get into tight areas beside or behind your house to remove stumps. A common example is in the pool area where palms get too big and must be removed.